Makarska
---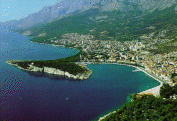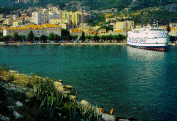 Not far away from Split and its Diocletian Palace, which is on UNESCO's list of worlds heritage, lies Makarska. Embodying in herself all that one desires from a tourist destination which with its many facilities satisfies every- one's taste in each and every season, and on the other hand a destination which enables you to be only with yourself if you want, Makarska will be a proper choice for those that enjoy the atmosphere of stone cobbled Dalmatian streets, southern openness, all combined with a superb tourist offer. Makarska is tucked in a natural harbour fringed with the green peninsulas of Osejava and St.Peter, at the very bottom of impressive Mount Biokovo. Indeed, nature has been generous ... secluded beaches, bare rugged rocks, straits and immense sea. And as soon as your eyes have adjusted to the azure of the sea, it is enough to cast your eyes over the roofs of Makarska to spot Mt. Biokovo thus witnessing the extraordinary amalgam of Mediterranean and mountainous. There, of butterfly and flowers one does not learn from books. After all, nature and life are far better teachers. The town is the heart of the Makarska Riviera, a long coastal strip which will surprise you by its beauty and preserved nature. Long sand or pebble beaches, pine forests, ever clear waters are only a tiny bit of tourist val- ues you may discover if visiting Tucepi, Zaostrog... all the way to Brela, one of the most favourite spots for many tourists. From Makarska they are all at hand. But not only them. Day excursions to Split, Dubrovnik or Medjugorje are also possible. Or perhaps islands of Hvar, Brac or Korcula, which are, thanks to modern and fast ships, just "across the road".

The history of Makarska is a lengthy one. First mentions of Makarska go back to the times of the ancient port of Aronia (Inaronia) and nearby Muccurum (Makar); she was administrative, trading and cultural center during Venetian, Turk, French and Austrian domination. Each left a mark of its own, all together creating a unique harmony of differences.

A town living its modern rhythm, is at the same time a town monument. The Franciscan monastery from the 16th century, and its world renowned collection of sea shells from oceans and seas across the world is no doubt going to be a point of interest for all visiting Makarska. If the towns have - and who could deny it - soul, then the soul of Makarska is a square with a statue of famous the bard Father Andrija Kacic Miosic, dominated by St Mark's cathedral dating back to 17th century, a Venitian fountain built in 1775 next to it, and on the very waterfront St.Phillip's church (18th century). Injustice would be done if taking you through Makarska we did not mention Ivanisevic family baroque pallace in the eastern part of the old part of the town, and equally the home of Tonolli family built in late baroque style. During the festival season all these streets and squares will be enlivened by the laughter of the new generations and be filled with its own, distinctive charm.



---
---
This page has been accessed

times since Wed Dec 27 12:56:39 WET 1995
---