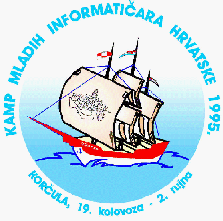 CROATIAN SUMMER CAMP IN INFORMATICS 1995
---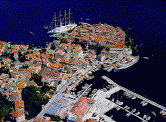 Croatian summer camp in informatics was held on the Adriatic island Korcula from August 19th till September 2nd. It was organised by the Croatian Informatics Clubs Association and was supported by Ministry of Education and Sports and Ministry of Science and Technology. It was also sponsored by Croatian Association of the Tehnical Culture, Faculty of Electrical Engineering, Mechanical Engineering and Naval Architecture Split, University Computing Centre Zagreb, County of Dubrovnik - Neretva, The Town of Korcula, companies "Combis" from Dubrovnik and "Euro tera" from Zagreb and hotel "Marko Polo".

About 60 participants from all over Croatia were invited to this camp because of their achievements on State competition and 7th International Olympiad in Informatics in The Netherlands. Croatian IOI team was successfully represented by 4 boys and a girl. They achieved the 16th position between 58 teams and won a silver medal (Davor Lovric - Split), two bronze medals (Aleksandar Matic - Pula, Bojan Antolovic - Zagreb) and the 7th position between girls (Elinka Barisic - Rijeka). The 5th member of the team was Zoran Majstrovic (Kutina).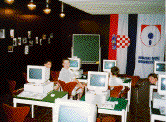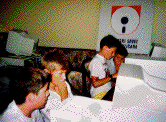 During the first week lectures and work-shops were organised for students at the age of 15 and younger. Themes of the work-shops covered the areas of LOGO, Visual Basic, Pascal, C, UNIX, CARNet/Internet and Multimedia. The 2nd week of the camp was for students between age of 15 and 19. Themes of their work included Visual C, Algorithmic problems, Computer vision, CARNet/Internet, UNIX and Multimedia. Work-shops were leaded by the eminent Croatian computer experts.
---

---
This server is made by: