The Town Of Hvar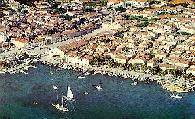 The town of Hvar is the largest settlement on the island of Hvar.
The access to Hvar implies the point from which we have reached it. From the sea, we get the sight of a waterfront promenade strip bordered with a row of palm trees and seven centuries old walls, overtopped by the fortresses protecting Hvar, extending downwards to the town and to the Venetian loggia. Coming from the central part of the island or using the road from the ferry harbour we arrive at the magnificent Piazza, a square generally considered the most beautiful of the kind in Dalmatia, dominated by St. Stephen's Cathedral and bordered by the palaces of Groda and by the cascading stone-built houses of Burag. But, no matter from which point this town is approached, Hvar straightway presents itself as a monument. Centuries have ground its stone, epochs, above all renaissance, have shaped its appearance. Monuments within monuments, monuments on monuments. Hvar is a jewel hidden by the time.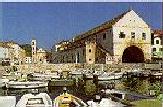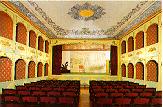 Yet, the presentation of Hvar is not defined by its monuments only. It should include its harbour spreading towards the sea and the islands called Pakleni Otoci, its hotels, apartments, its unmatched climate having healing properties, its restaurants and cafes, all reflecting the glossy spirit of an exquisite resort area for almost a century and a half.
Hvar displays with pride the oldest municipal theatre in Europe. Hvar has been built through time by notable domestic and foreign architects. Hvar has been celebrated in verses. Hvar has been painted by the painters. But Hvar itself is the best narrator of its own story. It is enough to come and see for oneself. That way we shall touch piece of the legend.

---
Index