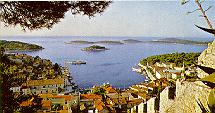 Paklinski otoci
---
The Paklinski otoci (Paklinski islands) are the most attractive and most visited spot. They can be reached from Hvar by motor boats that leave about every 15 minutes. The islands, acting as a natural shelter for Hvar port, are very favourable for settlement. They have been inhabited since Illyrian times. The name comes from the word "paklina" - melted pine resin, which was manufactured in some bays of these islands, and was used for coating ships.
The largest island is Veli Otok (The Big Island), i.e. Sv.Kliment (St. Clement) which was named after the chapel devoted to that saint back in the 15th century. The chapel was reconstructed, and an inscription concerning the battle of Vis in 1866 can be found on it. There are remains of Illyrian mounds and also of Roman country houses.
The bay of Palmizana, with its sandy beach, is the most popular spot to visit from Hvar. There are several guest houses and restaurants of good quality.
The island of Jerolim, nearer Hvar, has an authentic name of "Rasohatac". Once there was a small Franciscan hospice on it. Today there are several beaches and restaurants on the island.
The Pelegrin peninsula, the western point of the island of Hvar, is the site of a prehistoric settlement of neolithic man and has now been turned into a hunting preserve. In the bay of Parja there is an excursion spot.




---
Index