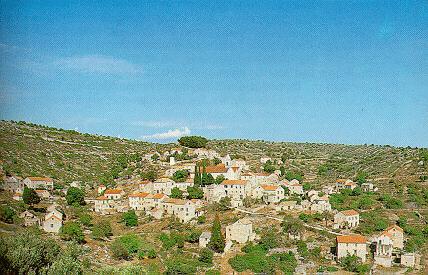 Pitve
---
Pitve is one of the oldest settlements of the island, owing to its exceptional strategical location under the sheer crag of Samotorac, at the entrance to the gorge of Vratnik. This has always been a natural defence and refuge from the enemy, which is the reason for its important role in the Second World War.
The settlement probably originates from Illyrian times, which supposes that its name originates from Pityeia, a former name for the island. It preserved its continuity owing to its strategical position. The village consists of two parts. The newer part, called Ostrvica from the 15th century, was founded after the fall of Bosnia when the first settlers came from there.
Between the old Pitve and Ostrvica there is the church of Sv. Jakov (St. James) from the 19th century, built on the foundations of the old one from the 15th century. Inside the church is a head of the god Janus with two faces (Janus - the god of the door, as a symbol of protection).
In the school building there is a memorial wing to the fighters of Pitve from the Second World War. On the first floor there is a museum of the National War for Liberation, the only one on the island, and on the ground floor there is a viticulture museum which houses the ethnographical items connected with the long tradition of wine-growing on the island.




---
Index