The Town Of Stari Grad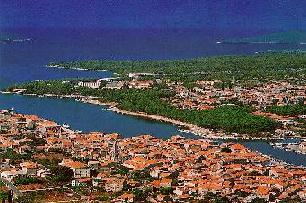 Stari Grad is located at the end of a four nautical mile long bay on the northern side of the island of Hvar.
The fields used to provide sustenance and the bay provided protection. Today, both the fields and the bay add an attractive quality to the old heart of the island, in which the modern vacation sights have become intertwined with the antiquities of the town and of the island.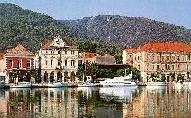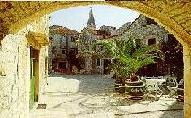 Stari grad, the oldest town on the island and one of the first in Europe, was founded by the ancient Greeks in 385/384 BC as an independent polis of Pharos. At the time of the Roman colonisation it was called Pharis. From the formation of the Hvar commune in 1278, when Hvar (Civitas Nova) became the island's chief town, Stari Grad (Civitas Vetus) stagnated somewhat.

The Greek town remained buried under the present day Stari Grad and only some fragmental architectural remains indicate its original lay-out, such as some parts of the 11 metre long Greek Walls, the so-called Cyclopean Walls, in the Tadic-Gramatorovi wine cellar. These walls are a part of the north city wall, while the east walls are just visible behind the church of Sv. Ivan (St. John). The stone blocks from the City Walls were incorporated into the foundations of the bell tower indicates that this was the very place where the main entrance of the town was. The inscription reads:

DEDURUNT HVIVIS PRIMORDIA MOLIS DE MOENIBUS URBIS RELIQUIAE ET DEDERAT GRESSUM IN URBEM JANUA...



The Roman town grew up around the perimeter of the Greek one. Thus, there are two preserved Roman mosaics under the pavement in the present-day Sridnja ulica (Middle Street), and there was a Roman bath under the church of Sv. Roko.

The medieval settlement grew up north of the Greek one and by the coast on the east. But there was nonetheless no change in the previously mentioned political and economic stagnation of the town in the 13th century. The architecture of the town, however, was not affected. Although the majority of the buildings were built in the 16th and 17th centuries, i.e. the Renaissance and baroque style are dominant in the city centre, there are many buildings with Romanesque and Gothic traces. <!One of the most harmonious areas of the town is the Skor square and the group of buildings around it. The Politeo house from the 17th century, the Bucic-Machiedo house and the Renaissance Vrankovic-Caric house in Ploca (a part of the town) are worth mentioning. The mansion of the poet hanibal Lucic is preserved only in some courtyard parts.>

<!A HREF=dommon.html>The Dominician monastery<!/A>
---
Index