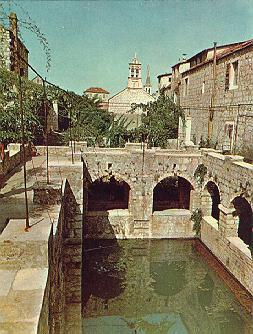 Tvrdalj
---
Tvrdalj is the fortified mansion of Petar Hektorovic, the poet (1487-1572). Hektorovic is the author of the first realistic epic poem of Croatian Renaissance literature "Ribanje i ribarsko prigovaranje" ("Conversations about fishing"). His tvrdalj is the central patrician building of the town. The design of the mansion was the poet's own idea, and just as he made a distinctive and realistic impact on Croatian Renaissance literature, he also made an impact on Stari Grad and the architecture of the town. Tvrdalj is a monumental Renaissance creation with a long closed facade facing the sea, showing the influence of the defensive architecture of Neretva. The true splendour of the Renaissance style is displayed in the interior. The centrepiece of the building is the fishpool, enclosed by a vaulted and arcaded terrace. Next to it is an elegant tower with a dovecote. The living quarters, the domestic area and the servant quarters, with several wells, are arranged around the fishpool. There is also a walled-in Renaissance garden where Hektorovic cultivated, with great love, not only Mediterranean plants, but some exotic ones as well, there are a series of inscriptions set into walls of the mansion in Latin and Croatian, which reveal the highly reflective and human side of the poet's character. The Croatian inscriptions are considered to be some of the oldest of those extant.
PETRVS HECTOREVS MARINI FILIVS
PROPRIO SVMPTV ET INDVSTRIA
AD SVVM ET AMICOR, VSVM CONSTRVXIT
(Petar Hektorovic, the son of Marin, built this at his own expense and by his own zeal, for his own and his friend's use).
Hektorovic built the mansion, as he himself says, to accommodate himself and his friends, but also as a stronghold which could shelter, in case of a Turk invasion of the island, his family and all the citizens.
Although Hektorovic was a member of one of the oldest noble families on the island, he was closely bound through his humanism to his country, and to his fellow man, the peasant and the fisherman.
There is the Ethnographic collection of the island of Hvar in one Wing of Tvrdalj belonging to the Centre for the Protection of the Cultural Heritage.




---
Index