The Archeological Museum
---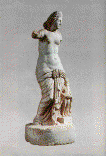 Zrinsko - Frankopanska 25

Open: every day except Monday from 09.00-13.00

Sundays from 10.00-12.00,

in addition during Summer from 16.00-19.00.

---
Founded in 1820, the Archaeological Museum in Split is the oldest Museum in Croatia.
It has a large stock of archaeological objects from prehistoric times, from the period of the Greek colonization of the Adriatic and from the Roman, Early Christian and early Medieval ages.
Most of the monuments come from the region of central Dalmatia, to be more and especially from Salona (Solin). Very important are collections of stone epitaphs from Salona (about 6.000 of them), of Greek Hellenistic ceramics, of Roman glass, of clay lamps, of objects made out of bone and metal, and of gems.
The Museum has a large collection of Antique and Medieval coins. The Museum also has a large library with about 30.000 books on archaeology and history as well as on Dalmatica (books, journals dealing with themes from the history of Dalmatia).
Since 1878 the Museum has issued its own journal "Bulletin for Dalmatian Archaeology and History". The beginning of archeology in Croatia is connected with the Archaeological Museum. Its long-time director Frane Bulic, especially afterthe First lnternational Congress of Early Christian Archaeology was held in solin and Split in 1894, won it world renown.
The building housing the Museum was built according to the project of the Viennese architects A. Kirstein and F. Ohmann from 1912 to 1914. The Museum exhibition was renewed in 1970 on the occasion of the 150 anniversary of its existence. Stone monuments (sculptures, epitaphs) are exibited in the portico of the lapidarium; the chronological succession of cultures from prehistory to the Early Middle Ages is displayed in the exhibition hall. There is a guide-book to the Museum in Croatian and English.