The Ethnographic Museum
---


Open from 08.00-13.00,

on Thursdays also from 17.00-19.00,

on Sundays and Holidays from 10.00-12.00.



---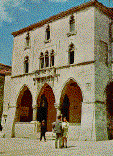 It was founded in 1910. The ethnography of the whole of Dalmatia is on show. The most typical costumes of the region, some of which excel with their embroidery, are exhibited (the pieces from Ravni Kotari, Knin, Vrlika, Imotski, Poljica). Some feature a characteristic white embroidery (from Sinj, the Dalmatian hinterland) or lacework (from Primosten, Novigrad and Pag). Various trades are on display in the museum: pottery, knitting, handiwork (woodcarving, basketry, the making of footwear). The museum presents the basic froms of economic life. One can also see Various instruments, silver jewellery and types of weapons.
From time to time the museum issues its own publications.