The Art Gallery
---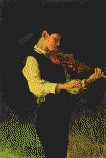 Lovretska 11

Opened every day, from Monday to Saturday, from 09.00-12.00;

in the summer from 17.00-19.00

and in the winter from 16.00-18.00.

---
The Gallery was founded in 1931. There is a permanent exhibition of paintings and sculptures from the XIVth century to the present day.
From time to time contemporary artists exhibit their works. Because of their artistic ex ellence one should mention the works by Andrija Alesi and Juraj Culinovic from the XVth century, by Andrija Medulic from the XVIth century, by Matej Poncun and Frederik Benkovic from the XVIIth century and the paintinqs of the Gothic Renaissance an Baroque Venetian masters.
Valuable icons from the XVth to the XIXth century are on display. Of special importance are the icons from the period between the XVIIIth-XIXth century which were painted by masters from Boka Kotorska. The most numerous works are those of the Croatian artists Bukovac, Medovic, Deskovic, Mestrovic, Vidovic and Job.